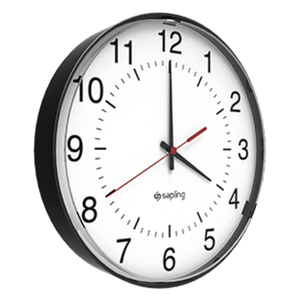 Analog Clocks

Simplex Time Recorder is collaborating with Sapling Company in streamlining wide variety of high quality advanced Synchronized Clock Systems for variety of Industries and Applications. Simplex offers unparalleled flexibility when it comes to our system offerings. We offer best technology in the industry. We offer Wired Wall Clocks (Sync Clocks) that can be used to replace existing wall clock models you currently got onsite. If you have Simplex, Lathem, Valcom or any other manufacture products onsite we can find compatible solution for you at ease. We also carry variety of Master Clocks to upgrade your obsolete Master Clock Systems that you currently got onsite so you can transition from Wired Clocks to Wireless Systems seamlessly without putting too much pressure on budget. 
We carry Wireless Systems, Talk Back Systems, IP-based POE Clock Systems, Wifi Clock Systems, 2 Wire Digital Communication Clock Systems and 3 Wire Sync Clock Systems, Time Zone Clocks, Stand Alone Quartz Battery Clocks and Message Clock Systems. Explore our different systems below to find which one meets and best suit your applications and needs. As always, we are just a click or phone call away to answer all your questions and concerns.
Please contact us directly and we can guide you in ordering a suitable system or replacement wall clock compatible and suitable for your site.
Wireless Clocks:
Simplex Wireless Clocks operate on the patented 915-928 MHz frequency-hopping technology (2.4 GHz frequency range available for international use). This technology allows multiple secondary clocks to operate on the same frequency range without interfering with any additional wireless products you may have.
Simplex Wireless System begins with the master clock, which can receive time from any SNTP/NTP server or GPS satellite. The master clock then sends out a signal to the secondary analog and/or digital clocks.
Once the secondary clocks receive the signal, they have the ability to retransmit that signal to surrounding clocks, ensuring that all timekeeping devices display the accurate time. This ability eliminates the cost for additional repeaters and transmitters as well as ensuring the most accurate time. Simplex Wireless Clocks can be retrofitted to an existing system as well as eliminates the need for complicated wiring.
Talk Back Wireless Clocks:
Simplex TalkBack Technology is revolutionizing the way clock systems operate. Along with providing accurate and precise time, the TalkBack System allows the secondary clocks to report back its current battery levels, signal strength, mechanical (analog) or display (digital) alerts, the last time a clock received a signal and much more to the master clock.
Most wireless clock systems can only receive the time, but with Simplex TalkBack Technology, the TalkBack System allows facility managers to be completely proactive when it comes to monitoring and maintaining the clock system. No longer are the days of hearing of broken or dead clocks from other personnel within the building. With Simplex TalkBack Wireless Clock System, the facility manger will have this information at their fingertips, giving them the upper hand in maintenance of the system. Ideal for multiple building environments, Simplex TalkBack Technology works seamlessly without the need to install any wires and the ability to manage the entire clock system from one simple location.
IP-POE Clocks:
Simplex IP Clock System gives you piece of mind and total control. Each clock is powered by PoE or Power over Ethernet, which provides power and data over the same Ethernet cable. Each clock has the ability to receive its time from a (S)NTP time server, there is NO need for a master clock.
All IP clocks within the system can be controlled independently using Simplex built-in web interface. This software allows you to monitor every feature of the IP clock system from anywhere with a network connection. No need to worry about your current system, POE can integrate easily with existing networks.
Wi-Fi Clocks:
Simplex Wi-Fi Clock System combines wireless simplicity with total control. There is no need for to run wires between the clocks as they will receive the time data over Wi-Fi from an internet or in-house NTP Server. Simply power the clocks, connect to your network, set, and go!
Simplex Wi-Fi Clocks connect to a wireless local network and are capable of taking the accurate time from any NTP server, so a master clock is only optional. The Simplex Wi-Fi clocks come pre-programmed with the web addresses of public internet NTP servers. Each clock can be set and controlled through a user-friendly built-in web interface from any computer or mobile devices (such as a tablet or smart phone).
Since Wi-Fi is the means of communication, Simplex Wi-Fi Clocks are ideal for facilities in need of many or just a few clocks spread far apart. It is also a great solution for multi-building campus environments utilizing existing Wi-Fi infrastructure.
Wired Clocks:
Simplex 2-wire digital communication is one of the most advanced systems in the world. Its simple installation and accurate timekeeping technology illustrate why Simplex is the leader in this industry. The 2-wire system utilizes only 2 wires for installation, one for data/power and the other as a reference.
Paired with Simplex Converter Box for power distribution, the 2-wire system is capable of running many clocks off of only one converter box unit. Providing immediate correction for time change, the 2-wire system is also capable of running analog and digital clocks on the same 2 wires. This system is available only on 24V clock models.